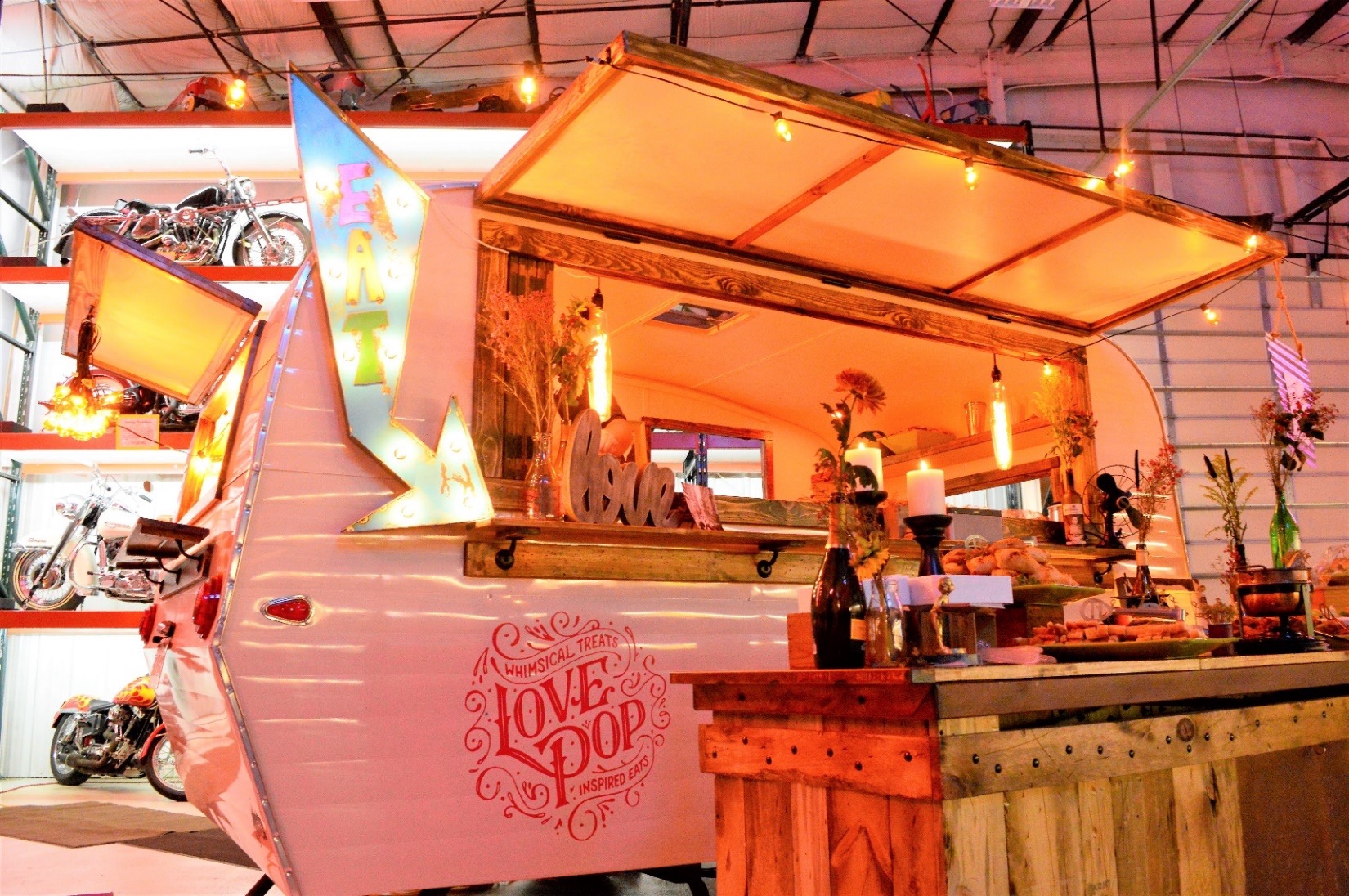 This is love pop
Combining decadent desserts, inspired eats, crafty cocktails and vintage vibes for your elevated experience.
Three Servings of Food Trucks
(including a very cool trailer)
Two Helpings of Eats
(with dessert, of course)
One Cocktail
(mixed, shaken or stirred and served from the coolest of bar trucks)
Don't forget the Garnish
(vintage inspired décor with a whole bunch of whimspirations)
Combined we are the perfect marriage of catering, cakes, cocktails and food trucks. Mix in some vintage vibe, awesome decor and a way-cool atmosphere for a one-of-a-kind experience in the spirit of a "Pop Up" Event. Our desserts, cakes and treats are creative, and oh so whimsical. Our eats are impressive, and very inspired. Our Trucks and Trailer are old. Yes, they're vintage, fully restored and very cool. The unique addition to your event calling for food trucks. Our harvest-tables were handcrafted by us for you. Built of Colorado Beetle Kill Pine and Patina Metal, these tables highlight our impressive and inviting décor. This same wood is specially crafted to fill our Food Trailer and Bar Truck bringing the same look and feel with our entire experience and to your entire event. Our service staff's one-of-a-kind bib aprons of leather and waxed canvas are crafted just for Love Pop. They harken back to the days of the real craftsman that built this country and inspire the craft we bring to our offerings. Plenty of truly unique, special and vintage touches create Love Pop!
Our services are many, but center around your specially crafted cake, menu or event.
No request is too small or too large.
As simple as your 10-year-old's Birthday Cake.
A casual Backyard BBQ for 250.
A Dinner Party with 20 of your closest friends served alfresco under the stars on a fully decorated, vintage, harvest table.
Or, as elaborate as a wedding on the family's ranch with full-service, professionally-staffed catering, a fully stocked Bar Truck with Bartenders, our Food Trailer serving some amazing food, a Dessert Bar with the Bride and Groom's favorite treats, and that special touch of vintage, farm-inspired décor, harvest-tables and more.
our classic whimspirations
Inspired Eats
Being a trained Chef, Jeff can create all things savory. And we love to explore all menu types. Comfort food cravings, East meets West, Latin, Italian & Asian, casual BBQ, tapas and appetizers to impress, we will design that special menu for your special event.
Yes, we also offer a true Food Truck experience serving your guests a pre-set selection of menu items from which they order and pay.
But, we also offer buffet service. No not your typical buffet. But rather our refined spin on the buffet. Our pictures can only explain.
Whimsical Treats
From decadent desserts, to amazing breakfast pastries, to creative cakes, to anything sweet, Barkley combines 30 years of pastry chef experience with amazing flavors and whimsical design creating all things sweet.
Want something special and unique? Just Ask. We will probably make it whimspirational, and just as you wish.
Wedding Cakes, Birthday Cakes and Celebrations Cakes

Individual Desserts and Dessert Trays

Sweet and Savory Breakfast Pastries and Desserts

Cookies, Cookies and More Cookies
Love Pop Cinema
Movie night will never be the same.
We offer a huge 16-foot screen, projector and sound, along with our cinema concessions unlike any movie theatre, served from our food trailer, Dickie. And Yes, we can serve cocktails too. Mixed, Shaken or Stirred served from our Bar Truck, Ralphie.
The perfect gathering for your Office, HOA, Neighborhood, Family & Friends.
Or our favorite…the coolest of tailgates!
Love Pop Experience
Think your favorite desserts, meets high-end catering, meets vintage food truck. Add a cocktail bar hanging out in the coolest venue. All combined, creates a one-of-a-kind experience…
The Love Pop Experience,
as we like to call it.
Whimsical Treats, Inspired Eats, Dickie, Harvie and Ralphie come together creating your amazing event.
We bring together all the elements of an inviting indoor/outdoor venue along with the allure of a "Pop-Up" party.
Please contact us for more details and how to create your very special and unique Love Pop Experience!
Do you have an event experience that you want to elevate?
A creative-genius realizing his dream to craft the perfect food experience, his close friend, a life-time pastry chef and artist who began his passion at a very young age, and an inspiring idea…discussed, refined, redefined, and continually evolving…finally come together. The passing of each of their fathers in a span of just two months further inspired a journey to create something new. The journey of Jeff Santangelo, the creative-genius, and Barkley Eberline, the artist & instigator, taking their ideas, their inspirations and their whims to create Love Pop. A journey full of ups & downs, highs & lows, challenges & celebrations, all in the pursuit of two vintage trucks, a vintage trailer, months of restorations, along with years of menu testing, designing and planning. A culmination of their dreams to create a one-of-a-kind experience to share with the world. Picture this - your favorite desserts, meets high-end catering, meets vintage food trucks. Add in a cocktail bar hanging out in the most inviting of venues. Fill it with the coolest of vintage décor and the of warmest of ambiance in the true spirit of a "Pop-Up". All combined, Love Pop creates a one-of-a-kind experience. Our truly unique "whimspirations" have come to life and promise to be the life of your party, event or soiree.
The Latest
The Love Pop "Love Potion" Adult Juice Boxes
Looking for a new idea to serve the specialty drink at your next event. With or without alcohol, the Love Pop Love Potion adult juice boxes are the answer. Let's craft your specialty drink, design a cool label, and serve it to your guests in a one-of-a-kind juice box. We loved these as kids and we will more than enjoy them as adults. Add to that, bar service from our unique Bar Truck, Ralphie, and the party is on! Available in various sizes for a welcome new addition to your event's bar selection. Inquire below and let us know how we can start crafting and designing your next event's Love Potion!
Client is required to procure alcohol. We are licensed and insured to serve alcohol. Price of juice boxes is based upon quantity of order, designing and labeling, and final ingredients. For faster order service, call us direct at 303.942.0300.
Dickie
A vintage camper that spent its life in the backcountry, now looking to spend its time in the limelight, Dickie is a camper reborn as a charming and inviting home from which to serve our whimsical treats, and of course any of our amazingly inspired eats. Named after Barkley's late father, Dickie pays homage to Barkley's dad and his love of the great outdoors. Always looking for his next adventure, of course with his trailer in tow, Barkley's dad was an avid backpacker and a lifetime REI employee. Dickie still captures this sense of adventure looking for a tow to your next event. With a complete ground-up restoration, Dickie is fully equipped with power, commercial refrigeration, the perfect lighting and unique serving windows. Add to that some one-of-a-kind touches like a barndoor and accents reminiscent of a barn located off the beaten path, Dickie is the perfect companion for an event looking to add a rustic yet refined touch.
Harvie
A 1966 International Harvester dually. A flatbed with rustic wood, and the look and feel reminiscent of the workhorse vehicle on your grandparent's farm, Harvie is our workhorse and the "centerpiece" of our vintage fleet. And, sure to be the centerpiece of your next event. An open flatbed awaiting for your idea. Harvie is the perfect "stage" for your next event. A stage for the band? Play on! A grill and BBQ station? Yes please, with seconds! The platform for an "I Do"? Let's do it! A Hayride? Hey to that! A promo vehicle for your company's big announcement? Everyone will surely listen! A DJ Booth? An incredible turn for the turntables! Your idea? Bring it! Unleash your imagination and Harvie is the perfect companion to make it a reality.
Ralphie
A vintage postal truck turned ice cream truck turned one-of-a-kind bar truck. The perfect setup for the beverage service of Love Pop, yet may just show up with the delivery of your custom cake. Named after Jeff's late father, Ralphie is the inspiration from a dad that always finished his day on a "sweet-note" and that of an ice cream treat. From his days as a kid, dad would jokingly tell of his favorite chocolate ice cream treat costing just a nickel, and a "Milk Nickel" he requested at the end of every dinnertime meal. Reborn from a complete frame-off restoration, our Ralphie truck serves as our delivery vehicle by day, reserving the evening and nights for your bar service. Complete with a custom and rustic bar (designed and built by our creative genius proprietor Jeff), full beverage and alcohol services, glassware, ice and all the serviceware, Ralphie is one special bar looking for an invite to your big event.
Where's your menus?
With the handcrafted element of our desserts and menu items, not only is there just too much to list, but we prefer to individualize our menu to your individual event. Yes, we offer your favorite "stand-bys" appearing on any good menu, but we also offer some pretty darn creative ideas, yet void of anything pretentious and unrecognizable. Contact us and let's start discussing your individual request.
What's the price of admission for Dickie, Ralphie and Harvie?
Dickie – For Private Events, Dickie is offered as part of our Service Charge listed below. This includes setup and breakdown and ALL the charming and inviting décor that makes Dickie the highlight of your event. Menu items and staffing are priced separately.
Ralphie – Bringing the most unique bar and bartending service to your private event, Ralphie is offered as part of our Bar Service Fee of $600. Complete with a Custom Full Service Bar and Back Bar, Bar Serviceware, Bar Tubs & Ice, Bottled Water, and Infused Water Decanter. Yes this too includes ALL the charming and inviting décor to make Ralphie a bar to remember. Client is responsible for the ordering and payment of all alcohol, although we will always offer assistance. Bartending staff is priced separately.
Harvie – For just $500/event, Harvie will be the centerpiece of your event. This includes assistance with setup, as well as power and sound, if necessary. Decor, Floral and other extras are priced separately.
For events on Monday, Tuesday, Wednesday and Thursday, rates for Dickie, Ralphie and Harvie are offered at reduced, negotiated rates. Please inquire.
Any Discounts Offered?
Yes, we offer discounts for charities and fundraising activities. We love kids and animals. Let's talk about your charity event helping out our kiddo's and animals. We would love to participate.
Do You Offer Standard Food Truck Service?
Yes. We are available for the standard Food Truck service with a pre-set menu and individual payment options for your/our customers. Dickie is designed for this service offering two service windows from which your guests order and are served. There's no extra charge for this service, but we do have minimums. The menu items and orders are paid for by each customer, allowing each customer to pay their own tab. We accept cash and all credit cards.
Do You Deliver?
Of course we do! The arrival of your cake, desserts and treats should be the least of your worries when planning your event. Delivery Fees encompassing the entire metro area from Lone Tree to Thornton to Aurora to Golden are $15. Delivery is available outside of the metro area within 100 miles, please call for pricing. Wedding cake delivery and setup fees vary and will be determined based upon your cake size, location and setup time.
Can you serve alcohol?
Yes, we can serve alcohol. We even offer fully trained and insured bartenders as part our full bar service. We are not legally allowed to purchase or sell liquor, so you must procure the liquor. We'll always help and even make arrangements to get it on Ralphie. We are limited to just serving the liquor and cannot legally transport or charge for any alcohol.
Are you licensed and insured?
Yes, we have all the necessary and required sales tax and business licensing. We also have the full range of insurances, including liability insurance, general liability and liquor liability. We will also add you/your venue as additional insured.
Do you provide Service Staff?
Our service staff is trained, our bartenders are TIPS certified and No, you cannot replace our service staff with your 16-year-old daughter and her friends, and Yes, we only allow our service staff (or approved outside staffing) to serve with Ralphie, Dickie and Harvie.
Do you offer tastings?
Oh yes we do! What better way for you to decide to hire Love Pope to serve your next event than by relishing in our offerings. Yes, there is a nominal fee for a tasting, but we will apply it to your final bill. And, we will even travel to your home or business for your tasting.
Will you collaborate with other chefs and restaurants?
Have a favorite chef, restaurant or food company that you would love to serve, but really, really want the Love Pop Experience? Yes, we will work with that chef or that restaurant or that food company to serve their food at a Love Pop Experience. We'll even bring Dickie, Ralphie and Harvie. Yes, our desserts and food are good, but were not that proud, somewhat humble and more than willing to work with any other chef that wants to collaborate with us. Of course, there's some fine print to this, but nothing that you and your favorite chef can't live with!
What's your Service Charge?
Depending upon the level of service and date of event, our Service Charge varies from 15% to 24%. This Service Charge includes the use of Dickie, Love Pop's vintage decor, our custom tables, candles, floral, lighting and all of the serviceware to make your event a true Love Pop Experience.
Do You Charge Gratuities?
Gratuities are Always Optional and Always Appreciated.
For events on Monday, Tuesday, Wednesday and Thursday, rates for Dickie, Ralphie and Harvie are offered at reduced, negotiated rates. Please inquire.
If you're ready to order a cake, dessert or order one of our trucks—we're ready to elevate your party's experience, and we're eager to iron out the details. Let's get started!
We are always excited to meet others and collaborate to create something unique and refreshing. Send us a message and let's get this discussion goin'.